1. Chronology of van Gogh's life
Early years
30 March 1853: Van Gogh is born in Groot-Zundert, the Netherlands. He was the son of Theodorus van Gogh (1822-1885), a preacher, and Anna Cornelia Carbentus (1819-1907).
1857: Vincent's brother, Theo, is born. The two brothers maintained a strong bond throughout Vincent's life.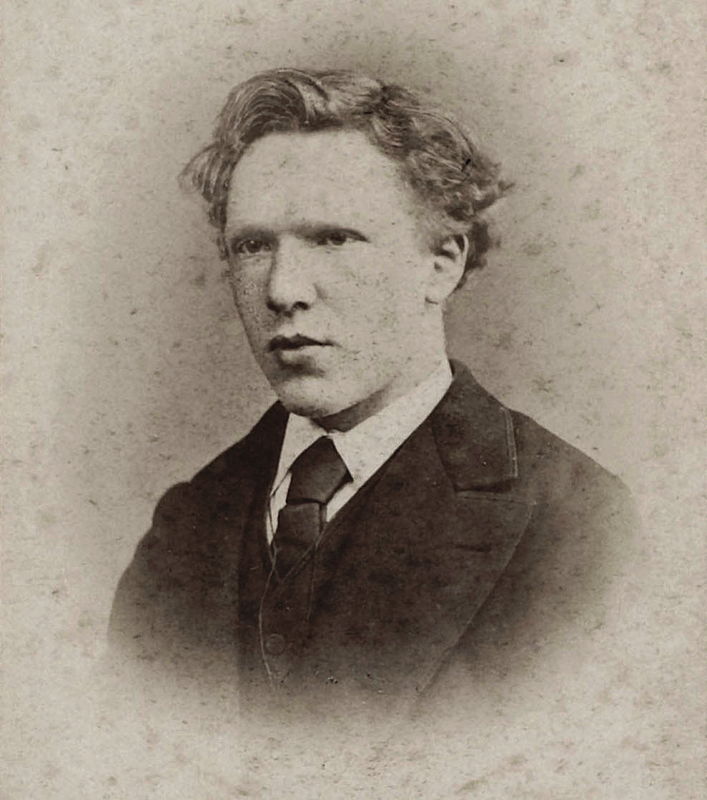 1861-68: Vincent attends school in the Netherlands. He displayed no signs of having the unique artistic ability which flourished in the late 1880s.
Early jobs
July 1869: Vincent lands a job at Goupil & Cie, an art dealership which has various galleries dotted around Europe. He starts work at its branch in the Hague.
June 1873: Vincent is transferred to Goupil's London branch. He lodges with a landlady and her daughter in south London. He falls in love with the daughter, but his feelings are not reciprocated. This is the first of a number of disastrous relationships Vincent had with the opposite sex.
1876-80: Vincent leaves Goupil & Cie by mutual consent. He returns home, turns to religion and becomes a lay preacher in the poor mining region of the Borinage in Belgium.
1880: Vincent goes to Brussels to study art. Theo provides him with financial support.
Unlucky in love
1881: Vincent falls in love with his cousin, Kee Vos-Stricker (who he called KV). But she rejects his advances (saying "no, never, never" when he proposed out of the blue). Vincent follows KV to Amsterdam and barges into her parents' house, where she is staying. When they won't let him see her, Vincent burns himself by holding his hand over a candle.
Later, in a letter to Theo of December 1881, Vincent writes:
"... I'd like to be with a woman, I can't live without love, without a woman. I couldn't care a fig for life if there wasn't something infinite, something deep, something real."
1882: Vincent meets a pregnant prostitute called Sion. He moves her and her daughter into his small studio. After the baby is born, Sion goes back to work. This makes Vincent very jealous and he suddenly packs up his painting gear and moves out.
1884: Vincent moves back to his parents' house in Neunen. He strikes up a relationship with his neighbour's daughter, Margot. She reciprocates. But when he proposes to Margot, her parents strongly object to the marriage and Margot poisons herself. She survives but the relationship does not.
The Potato Eaters and Paris
April 1885: Vincent paints The Potato Eaters, one of his most famous works. But the Dutch tradition and earthy tones of the painting are in stark contrast with his later works.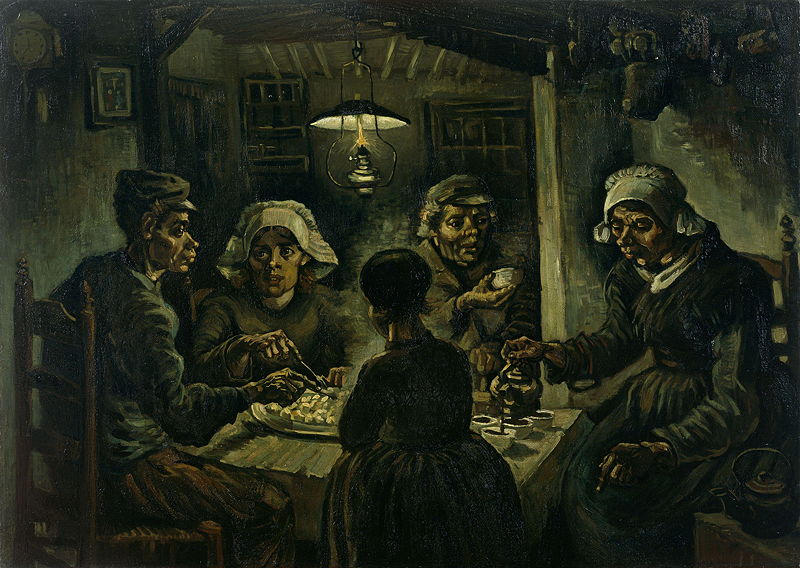 March 1886: Vincent moves to Paris to live with Theo, who is by now a successful art dealer. Theo introduces Vincent to the impressionists who were living in Paris at the time, including Camille Pissarro and Edgar Degas. But Vincent is a difficult house guest and the two brothers eventually quarrel: the somewhat boorish Vincent cramps his sophisticated brother's style!
1886-7: Vincent has a four-month relationship with Agostina Segatori, the owner of a Parisian restaurant called Le Tambourin. But when she falls ill, the ever-suspicious Vincent wrecks things by accusing her of having had an abortion or miscarriage while carrying another man's child.
Arles
February 1888: Vincent moves to Arles, in the south of France. His plan is to establish an artist's colony where like-minded painters can work, discuss their ideas and enjoy life. Sadly, though somewhat inevitably, this utopia fails to materialise.
May 1888: Vincent moves into the famous Yellow House, where he rents four rooms. Theo eventually persuades Paul Gauguin to move in with Vincent. Vincent is excited by this news and goes about decorating the Yellow House: he fills the guest room, adjoining van Gogh's bedroom, with freshly painted canvasses (including a version of The Sunflowers).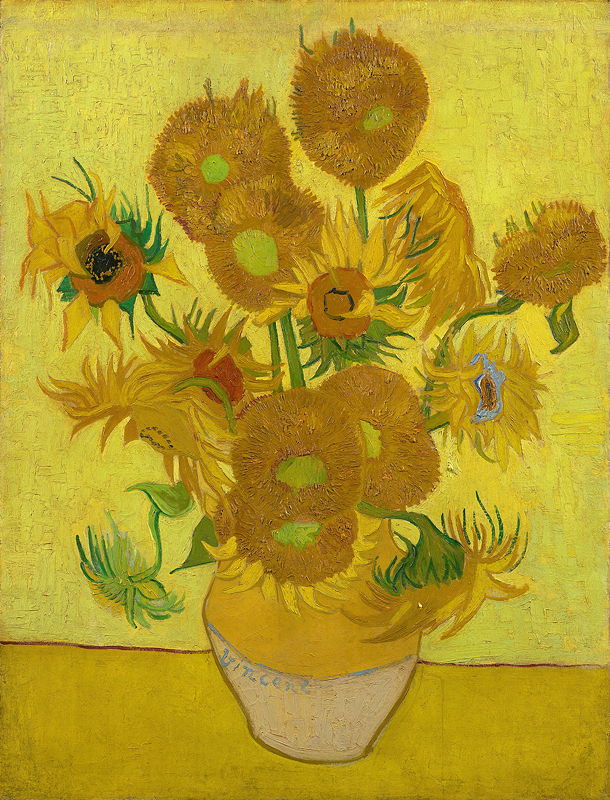 October 1888: Paul Gauguin moves into the Yellow House. At first, things go well: the two men get on and paint similar motifs (including, most famously, the Night Cafe). The two men spend 63 days living together.
23 December 1888: Van Gogh cuts off his left ear. Although the precise events remain unclear the most likely sequence of events is:
Gauguin and van Gogh have a blazing row, perhaps about a model that sits for them who likes Gaugin (making Vincent jealous).
Van Gogh severs a large portion of his left ear.
Van Gogh delivers the bloody mess to a worker (perhaps a cleaner, perhaps a prostitute) at a local brothel. Her name is Rachel.
Van Gogh returns home and passes out.
The authorities are summonsed, think van Gogh is dead, arrest Gauguin for his murder, realise their mistake and release Gauguin (who promptly leaves Arles and never sees van Gogh again).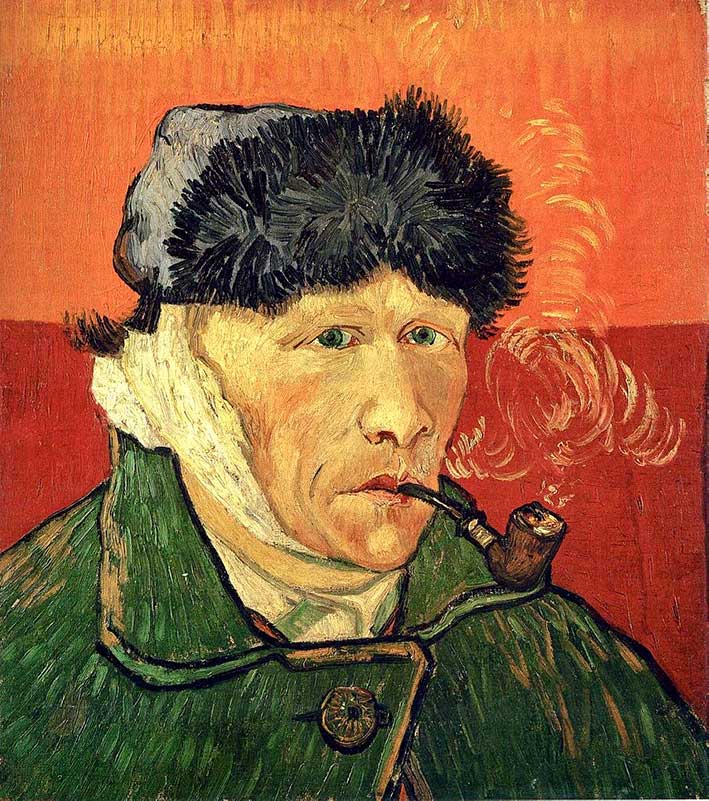 Jan-April 1889: Theo travels to see Vincent. He arranges treatment in a local hospital in the first instance, but by May 1889 it becomes clear that Vincent will need more specialist treatment in a local asylum.
St Remy
8 May 1889. Van Gogh voluntarily admits himself to the St Remy asylum. The asylum is only half full and he is well treated, being allowed to set up a studio in a spare room.
June 1889: Van Gogh paints Starry Night, one of his most famous works, from his room in St Remy.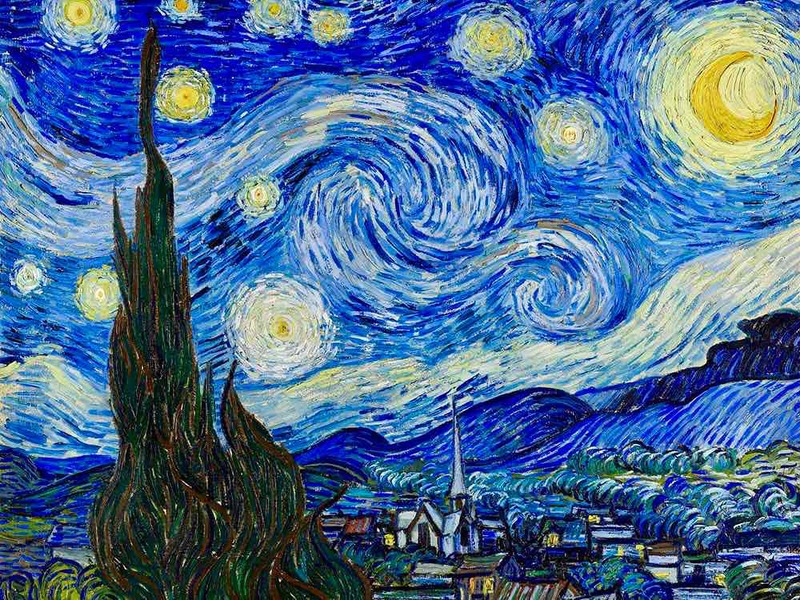 July 1889: Van Gogh paints Wheatfield with Cypresses, another of his world-famous paintings.
Auvers
May 1890: Van Gogh leaves the St Remy asylum and travels to Auvers-sur-Oise, a small village close to Paris. He is to be supervised by Dr Paul Gachet. At first he is hopeful that Gachet will be able to help him, and the two men certainly get on (Vincent paints Gachet's portrait on two occasions).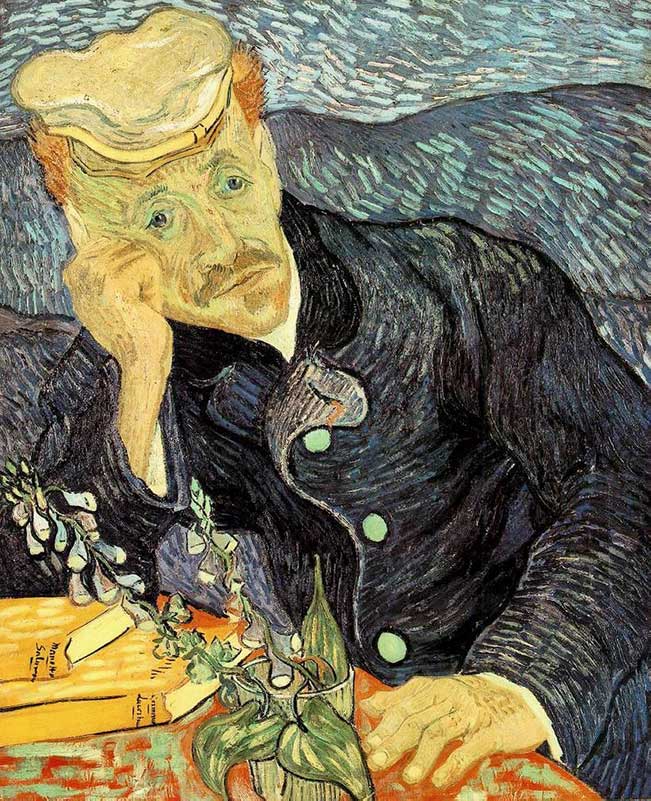 27 July 1890: Van Gogh goes to paint wheatfields, but shoots himself in the chest*. He staggers back to his lodgings but dies two days later.
* It is most likely that van Gogh's death was suicide. However, van Gogh scholars Steven Naifeh and Gregory White Smith have proposed a different theory: that he was murdered by two local boys, but that he pretended that he had shot himself so as to keep them out of trouble.
30 July 1890: Van Gogh is buried in Auvers-sur-Oise.
25 January 1891: Theo dies of syphilis. Vincent's paintings and remaining letters to Theo are bequeathed to Theo's widow, Johanna. She cares for the paintings (lending them to various van Gogh retrospectives) and carefully catalogues the letters.
1914: An edition of Vincent's letters to Theo, edited by Johanna, is published in Dutch.
1973: The Van Gogh Museum opens in Amsterdam.
1987: one of the five versions of van Gogh's Sunflowers sells for £24.75 million, then a record price for a van Gogh.
1990: van Gogh's first portrait of Dr Gachet is sold to a private collector for $82.5 million. This is the current holder of the record price for a van Gogh painting. Not bad for a painter who only sold one work, The Red Vineyard (1888), during his lifetime.
2021: the discovery of a van Gogh sketch from 1882, called Study for Worn Out, confirms that there are still some missing van Gogh paintings out there!
12 November 2021: Four van Gogh paintings sell at a single auction at Christie's New York for a combined value of $161 million. The four works are Wooden Cabins among the Olive Trees and Cypresses ($71.3m), Young Man with a Cornflower ($46.7m), Wheatstacks ($35.8m) and Knot Birches ($7.3m).
13 July 2022: Conservators at the National Gallery of Scotland discover a van Gogh self-portrait hidden on the back of an earlier work called Head of a Peasant Woman. The self-portrait was discovered by X-Ray, being hidden by glue and cardboard. The gallery's staff expressed their "shock" to have suddenly found van Gogh "looking out at us". The self-portrait is now going to be painstakingly restored.