1. Edouard Manet
Edouard Manet, the father of impressionism, is represented by five works.
Music in the Tuileries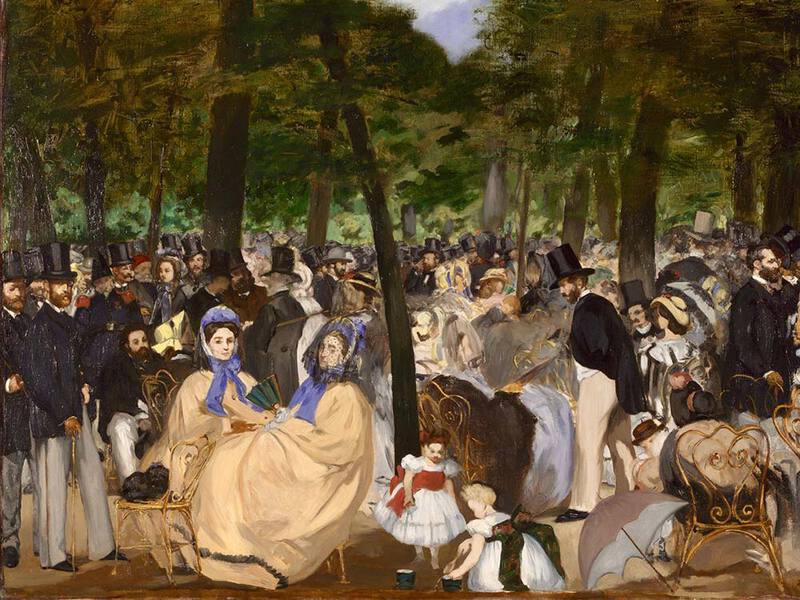 Music in the Tuileries, painted in 1862 at the beginning of Manet's career, depicts fashionable Parisians enjoying music in formal gardens in the centre of the city. But it also represents a manifesto for Manet's art: modern, bright and painted with loose brushstrokes. Preceding Manet's more famous works Dejuner sur l'Herbe and Olympia by a few years, some art scholars say Music in the Tuileries is the first real work of modern art.
Interesting fact...
Look carefully and you will see a partly obscured Edouard Manet on the far left of the canvas.
Execution of Maximilian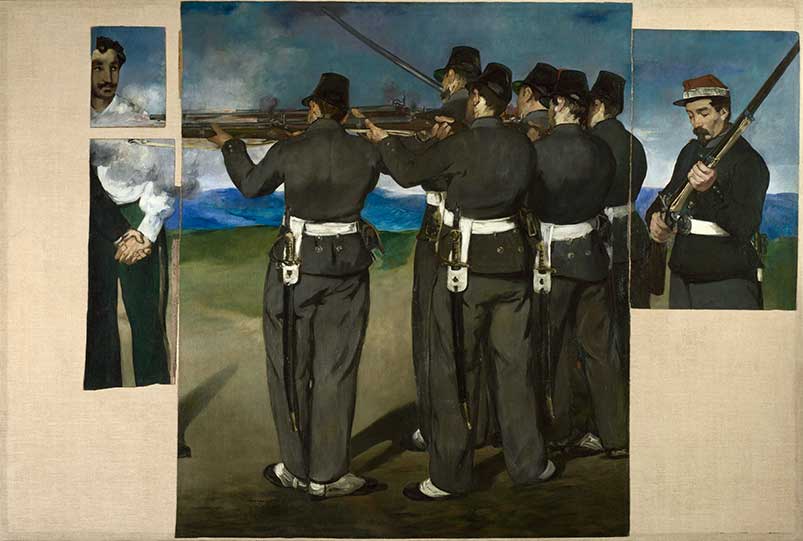 Execution of Maximilian, painted between 1867-8, is important for what it tells us about Manet's character: the work is a political statement against the oppressive foreign policy of Emperor Napoleon III, which had just backfired when a coup in Mexico had toppled (and led to the execution of) the puppet ruler (Maximilian) installed by France. The painting was banned by the authorities and later cut up by (it seems) Manet's relatives after his death. Degas did his best to restore it.
Interesting fact...
This painting is massive, measuring 193 x 284 cm.
Manet's other three works are:
Eva Gonzales (1870), is a painting by Manet of his one and only formal student. Gonzales is shown in a completely impractical white dress, happily engrossed in painting a still life of flowers. The other notable thing about the painting is its large size: 193 x 133 cms.
Corner of a Cafe Concert (1878-1880), depicting a lone man sitting at a bar, smoking his pipe and watching a dancer on stage. The show is, however, stolen by the stolid waitress carrying two pints of beer and with an ambiguous and somewhat vacant stare. This canvas is in fact one half of a larger painting, which Manet cut in two.
Woman with a Cat (1882?) is in fact a portrait of Manet's wife, Suzanne, and the family cat. Suzanne is deep in thought, with her hand to her head - perhaps in worry. The work is unfinished and Manet may well have been working on it shortly before his early death in April 1883.
2. Claude Monet
Claude Monet, the most famous impressionist today, is represented by 17 works.
Three are particularly important.
Bathers at La Grenouillère (The Frogpond)
This painting, from 1869, is important because it draws attention to the close collaboration between the impressionists in the 1860s and 1870s. Monet painted this version with Renoir alongside him, with the two mens' canvasses bearing striking similarities.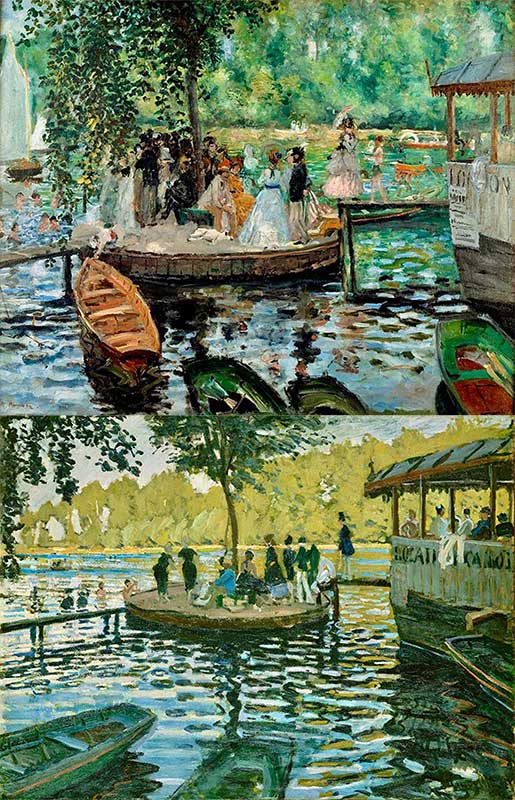 The Gare at St Lazare
Gare St Lazare—a painting of a steam engine puffing out smoke at a busy Parisian railway station. This work was painted by Monet in 1877, one of a dozen versions of the station Monet painted, and is one of the best 10 impressionist works.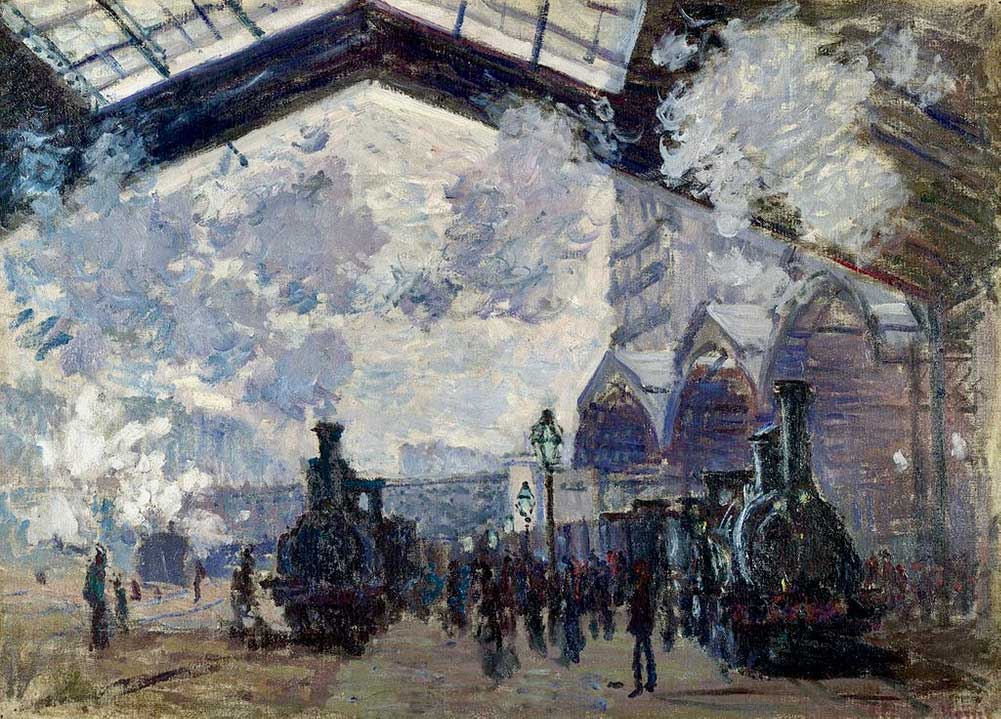 Paul Durand-Ruel saw the importance of this work and snapped it up even though the country was in the depths of a depression.
Water Lilies
The National Gallery is home to three of Monet's Water Lilies, including one of his important depictions of the Japanese Bridge crossing his water lily ponds in Givery.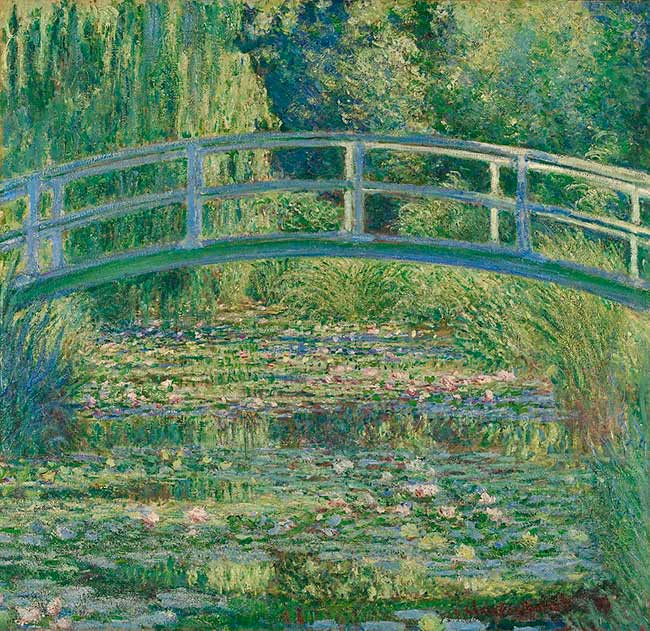 The Water Lilies, some of the most important of all impressionist paintings, were produced at the end of Monet's life and marked a transition from impressionism to the abstraction that has characterised much of 20th century art.
Another key Water Lily painting held by the National Gallery is 200 by 426 centimetre painting of the surface of one of Monet's Giverny ponds. Painted at the same time as the Grand Decorations held in Paris' Musee de l'Orangerie, visitors can get lost in this immersive work.
More Monets for your Money
Actually, admission to the National Gallery is free. And you will be able to see 14 more Monets, including:
The Thames below Westminster (1871) one of many paintings of London produced by Monet after he fled to London in late 1870 to avoid the Franco-Prussian war.
Lavacourt under snow (1878-1881) and Snow scene at Argenteuil (1875), two of Monet's most impressive snowscapes.
Irises (1914-1917), one of many versions of this beautiful flower Monet painted at Giverny in his later years.
3. Paul Cezanne
Paul Cezanne, who struggled for recognition more than most impressionists during his lifetime but is perhaps the movement's key link with modern art, is also well-represented with 12 works.
Three are must-sees.
Cezanne's father
Cezanne's painting of his father entitled The Painter's Father, Louis-Auguste Cézanne from 1865 is in the permanent collection: a reminder of Cezanne's complicated relationship with his father and the artist's early struggles.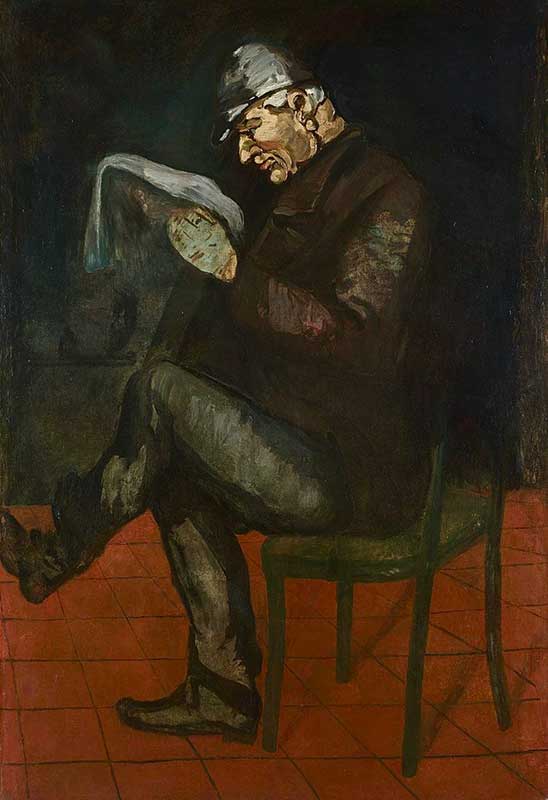 Self-portrait
The collection's second key Cezanne is a Self-Portrait from 1880-1. It shows Cezanne, who by now had separated from the impressionist group and had become a father, in a thoughtful and perhaps somewhat distant pose.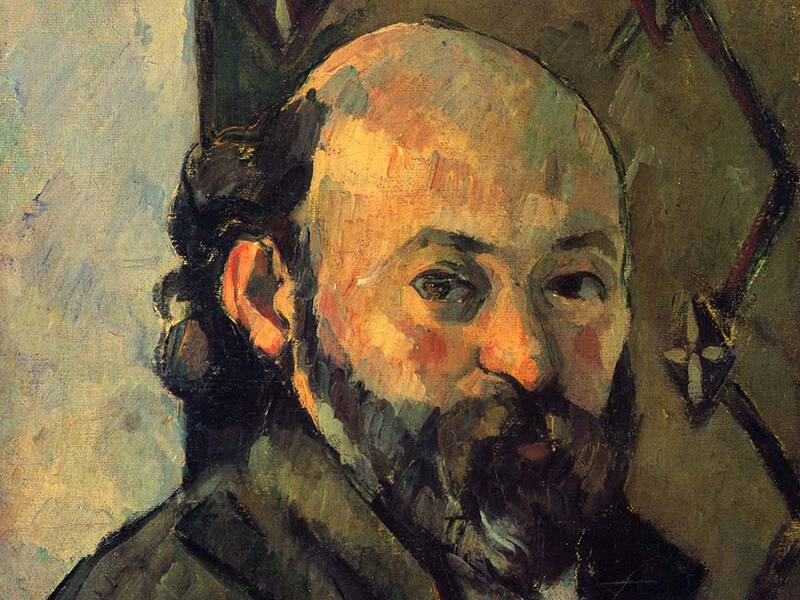 The Large Bathers
The other important Cezanne is one of three versions of the Large Bathers (Les Grandes Baigneuses), depicting nude females in a geometrical structure which inspired modern artists such as Picasso and Matisse.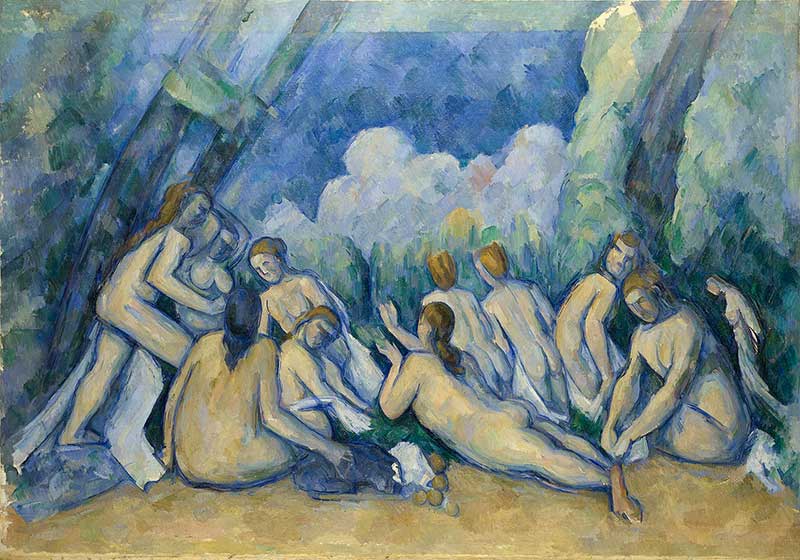 More Cezannes
The National Gallery holds a number of Cezanne landscapes of Provence - including the stunning The Sea at L'Estaque. Note that not all of the Gallery's holdings will be on display at any one time: the collection is rotated and pieces are often lent to temporary exhibitions.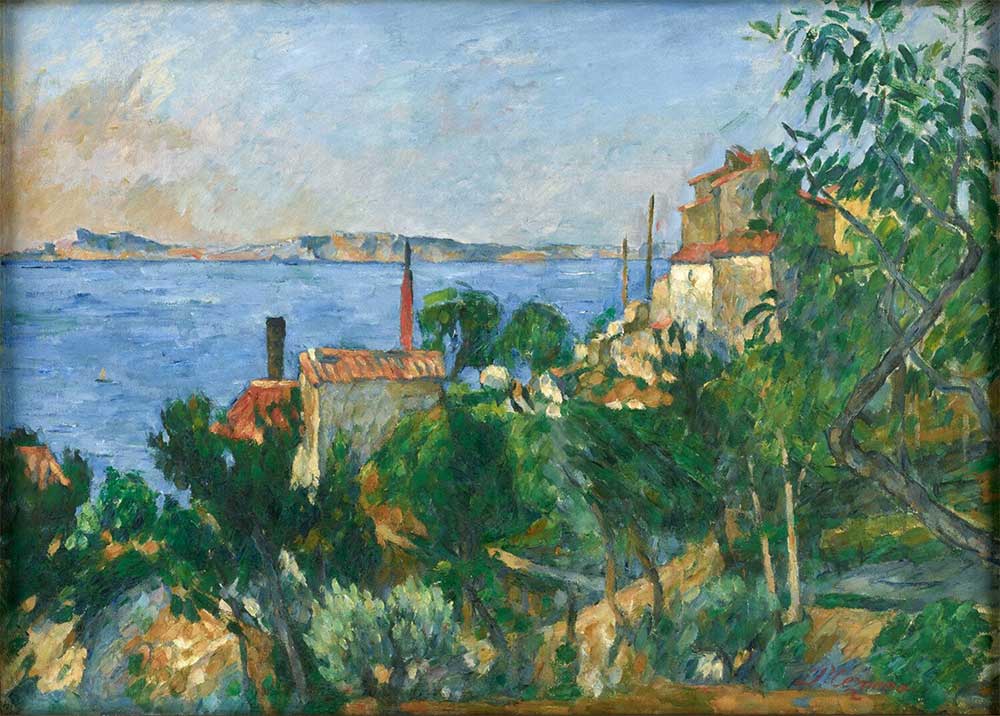 4. Edgar Degas
Sixteen works by Edgar Degas are also on display. Degas was a brilliant, difficult and complex member of the impressionists.
Three of the National Gallery's treasures highlight some of his key periods.
Young Spartans Exercising was painted in about 1860, at the beginning of Degas' career, and shows groups of naked male and female adolescents. Though it bears many of the hallmarks of a neo-classical work (for instance, it is a historical painting), there is something thoroughly modern about the flirtation that appears to be taking place. The painting therefore shows Degas as a thoughtful, innovative and controversial artist.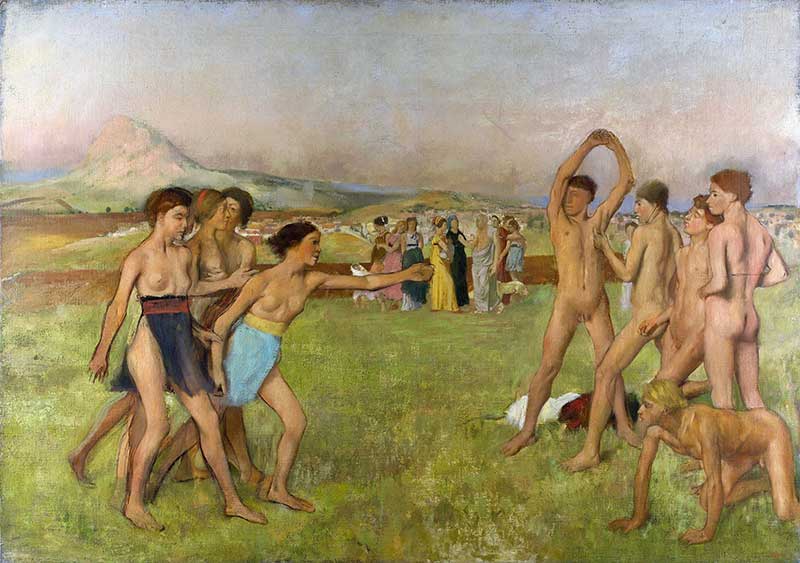 A number of pastels of Ballet Dancers, the works for which Degas is most famous, are also on display in a darkened interior room. Importantly, Degas does not seek to romanticise the daily existence of the dancers: his works often emphasise the gruelling nature of their job.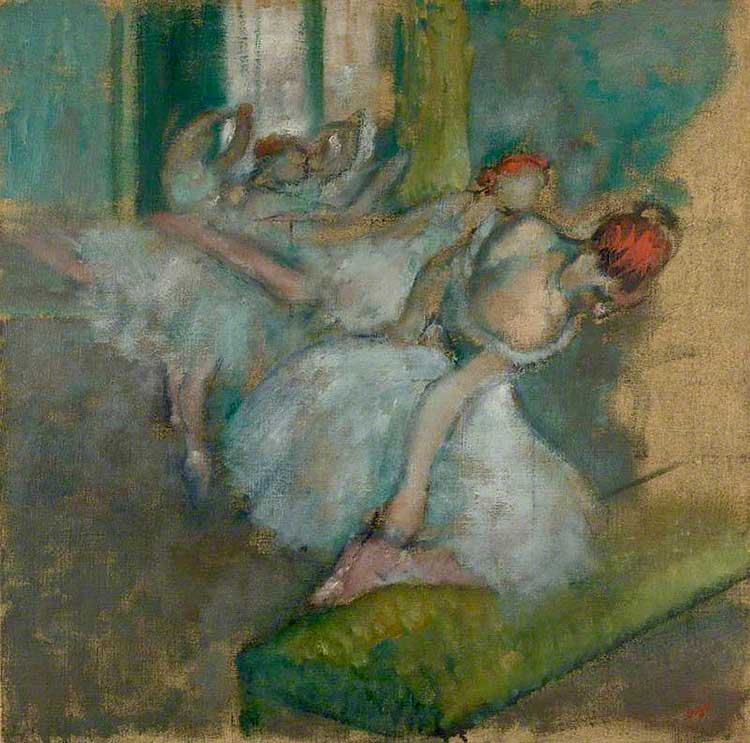 Finally comes Degas' After the Bath, Woman Drying Herself, one of a number of nudes painted by Degas towards the end of his career.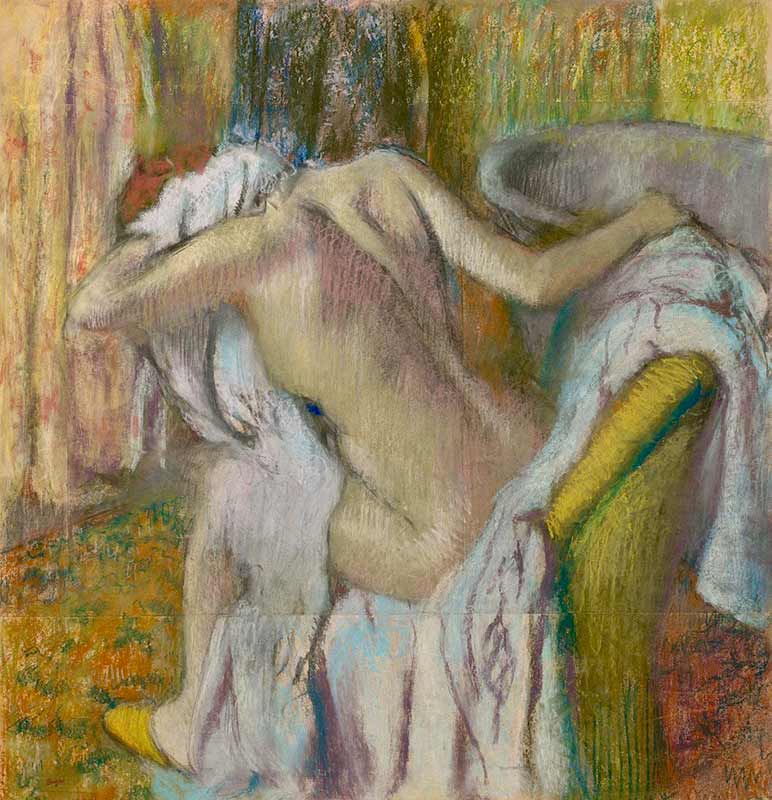 Again, there is no sentimentality here: as Degas said
"these women of mine are honest and simple folk… It is as if you looked through a keyhole".
5. Auguste Renoir and Others
The National Gallery also boasts 11 works by Auguste Renoir, the easy-going impressionist who had a particular talent for capturing the female form.
The three highlights are The Skiff, At the Theatre (La Premiere Sortie) and The Umbrellas.
The Skiff (La Yole), painted in 1875, depicts a small boat on a shimmering lake. Though Renoir was predominantly a portraitist, this is a stunning landscape painted using broad brush-strokes - showing what an all-round painter Renoir was.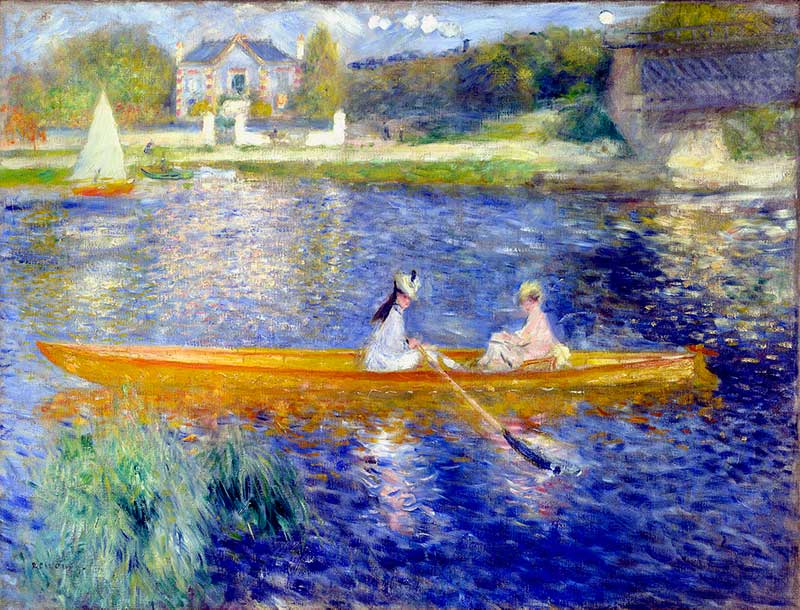 At the Theatre (La Premiere Sortie), from 1876-7, shows a young girl captivated by her first experience of going to a show. Her look of excitement and captivation is just one of scores of examples of Renoir's unique ability to capture the female form. The background is also interesting: Renoir has obscured the faces of most of the audience, but two - one man, one woman - stand out.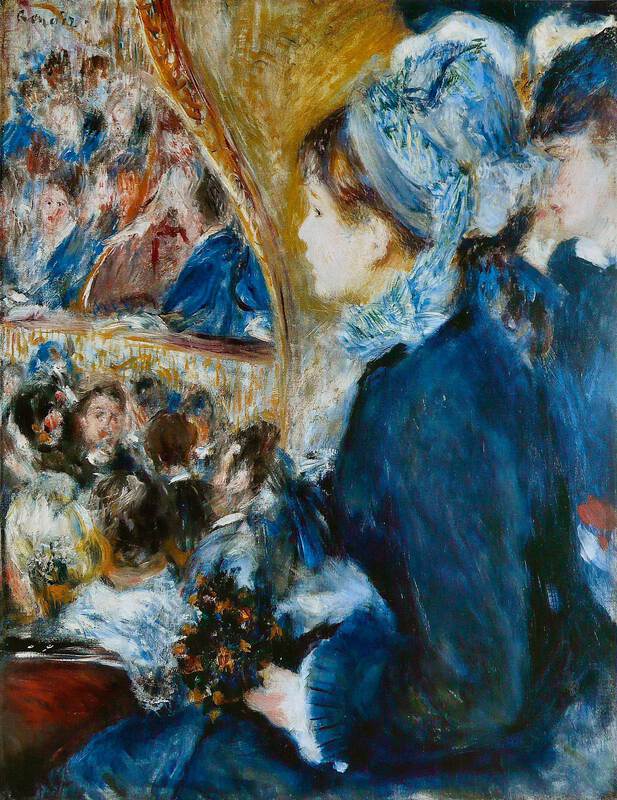 The Umbrellas, from c. 1881-1886, is a different work altogether: dating from Renoir's so-called Dry Period, when Renoir temporarily moved away from the broad brushstrokes used by the other impressionists, this striking work is given structure by a canopy of a dozen umbrellas. The most outstanding aspect of this painting is the young girl in the painting's bottom right.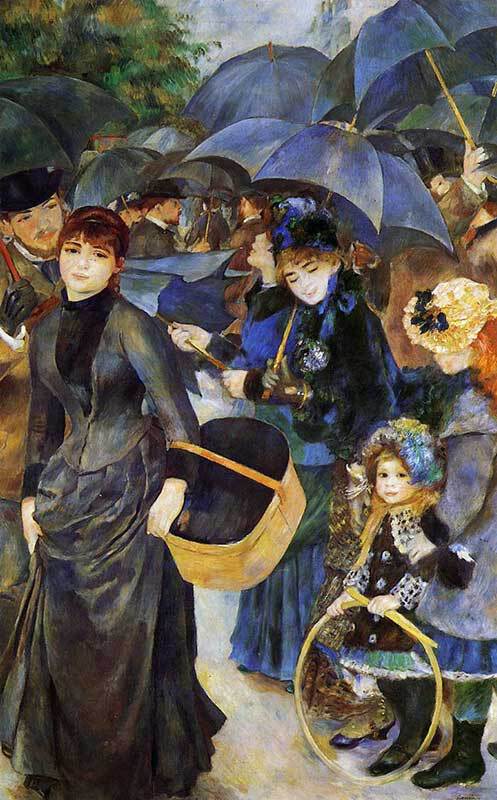 Others
The other impressionists are also well represented. There are 12 Pissarros, including Boulevard Montmartre at Night, one of the top 10 impressionist paintings; five Sisleys; and two Morisots.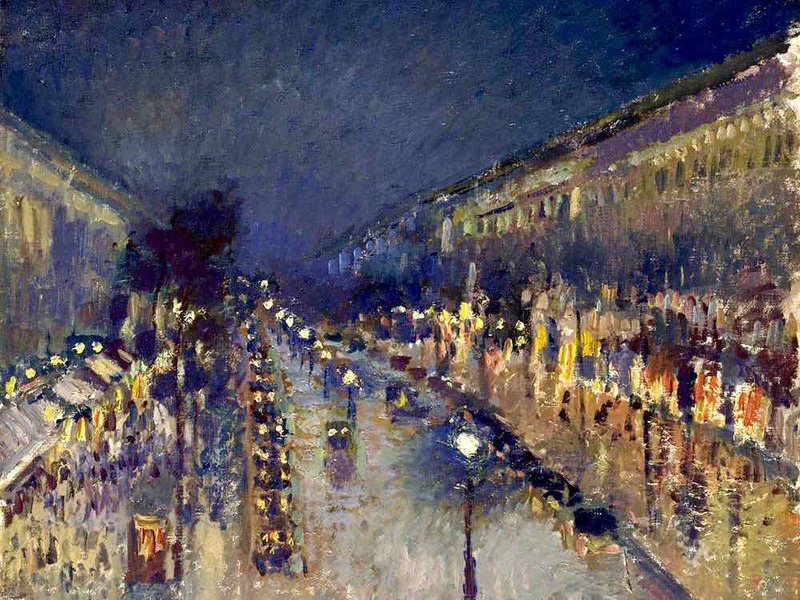 6. The National Gallery's Other Highlights
The National Gallery displays artwork dating from 1300 to 1900, with a permanent collection of 2,300 works.
It attracts around 6 million visitors a year (making it the world's fifth most visited museum). Once you have checked out the impressionist rooms, have a look for the following paintings that you might have heard of:
JMW Turner's The Fighting Temeraire, one of our Top 10 Paintings of All Time.
John Constable's The Hay Wain
Leonardo da Vinci's The Virgin on the Rocks
Velazquez's The Rokeby Venus
Botticelli's Venus and Mars
Titian's Bacchus and Ariadne
Rubens' Sampson and Delilah
Rembrandt's Self-Portrait at the Age of 34
Van Gogh's Sunflowers
Michelangelo's The Entombment (or Christ being Carried to his Tomb)
What else?
The first important piece of additional information is that entrance to the National Gallery, as with many of London's museums, is free. Opening hours are 10am to 6pm seven days a week, with late opening till 9pm on Fridays.
The National Gallery also boasts a number of good eateries, various shops and puts on frequent temporary exhibitions. It is one of the best things to do in central London.