1. Chronology of Monet's Life
Early years
14 November 1840: Oscar-Claude Monet is born into a humble Parisian household, the son of a shopkeeper.
1845: Monet moves with his family to Le Havre, on the Normandy coast.
c. 1856: Monet, who has bags of artistic talent, makes sketches of local celebrities and sells them in a picture framer's shop. Monet also meets Eugene Bodin, who introduces him to en plein air (outdoor) painting on the Normandy coast.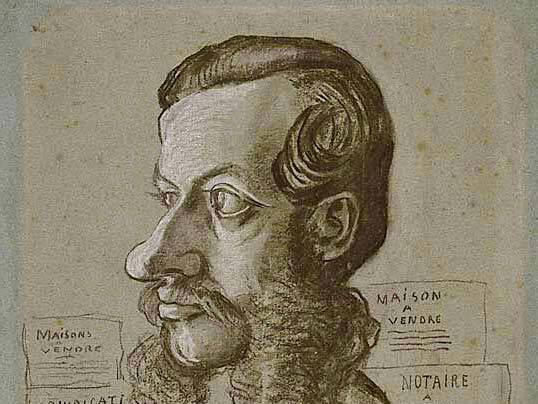 1857: Monet's mother dies and Monet abandons his academic studies to focus on painting.
1859: Monet travels to Paris to study at Suisse's Studio, where he meets Camille Pissarro.
1860: Monet is conscripted into the army and serves in Algeria. But he catches typhoid fever and returns to France to recuperate. His family then buy him out of the army (and so he does not complete his two years' military service)
1862: Monet returns to Paris, this time to study at the Studio of Charles Gleyre - where he meets Auguste Renoir, Frederic Bazille, Alfred Sisley and Paul Cezanne.
Monet starts to exhibit
1865: Monet makes his debut at the Salon in Paris, exhibiting the Mouth of the Seine at Hornfleur and achieving positive reviews. This upsets Edouard Manet, whose entry to the Salon that year, Olympia, was panned: Manet thought Monet was trading off his reputation. Learn more on our Manet vs Monet page.
1866: Monet's Woman in the Green Dress is submitted to the Salon, and again generates positive reviews.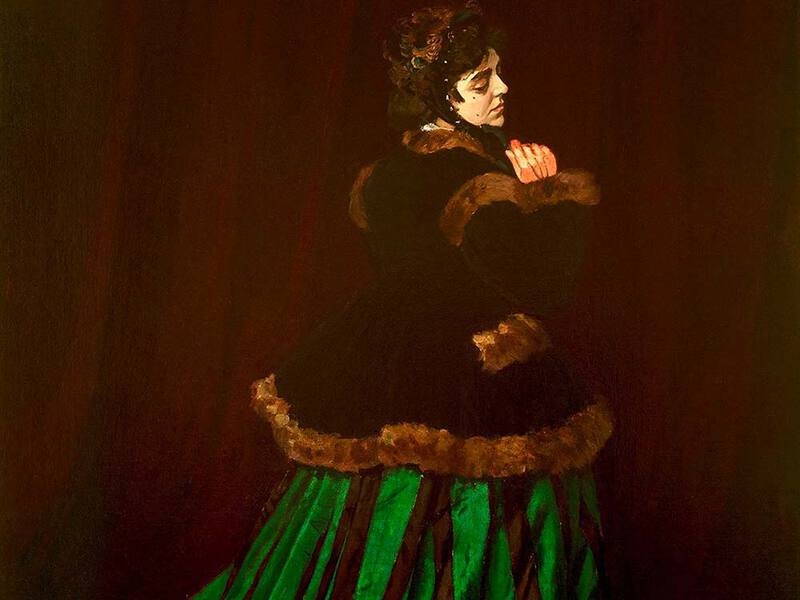 1867: Monet's girlfriend, Camille Doncieux, falls pregnant. Monet later marries Doncieux on 28 June 1870.
1867, 1869, 1870: Monet's entries to the Salon are rejected (there was no Salon in 1868). These rejections were a serious problem for Monet: he had a young child to support and, unlike Manet and Edgar Degas, did not have family money he could rely upon.
War, London and the Impressionist Exhibitions
1870: Napoleon III declares war on the Prussian empire. This turns out to be a disastrous tactical decision, with the French defeated in late 1870 and Paris besieged at the end of the year. Unlike Manet, Monet flees with Camille and his young son Jean to London.
When in London, Monet meets the art dealer Paul Durand-Ruel (who was to become the impressionists' most important supporter) and studies the works of Constable and Turner in the National Gallery.
1871: After travelling to Holland, Monet settles in Argenteuil.
1874: Monet helps to organise the First Impressionist Exhibition. The reviews are hostile, with Monet's Impression: Sunrise singled out for particular criticism.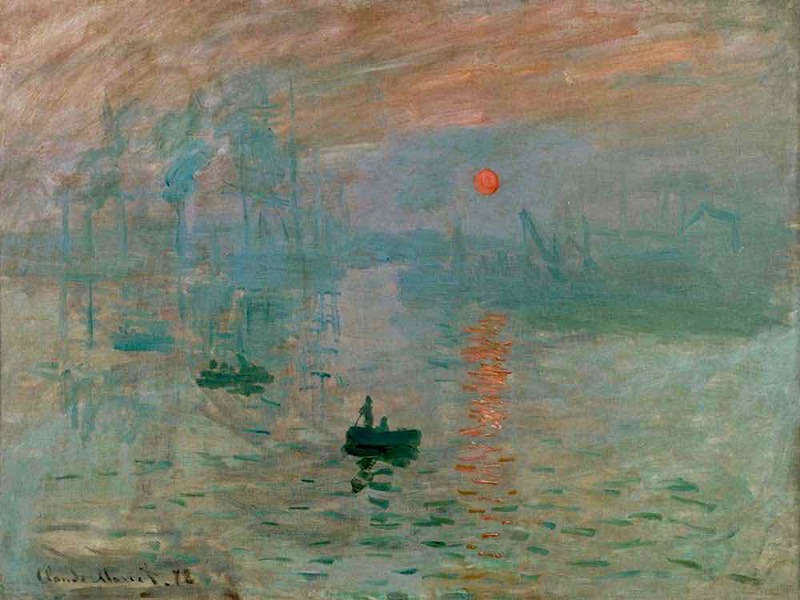 One critic remarked as follows of Monet's painting:
"Impression! Of course. There must be an impression somewhere in it. What freedom ... what flexibility of style. Wallpaper in early stages is more finished than that."
1876: Monet's money problems come to a head. He sends begging letters to patrons and friends, including Edouard Manet.
1876: Monet exhibits in the Second Impressionist Exhibition. The reviews are again poor, but Monet at least manages to sell his Japanese Woman for 2,000 francs.
1877: Monet produces one of his famous collections of works, of the Parisian train station Gare Saint Lazare. Durand-Ruel is so impressed with the paintings that he snapped them up on sight, and even made small payments to other members of the impressionist group. The paintings are displayed at the Third Impressionist Exhibition held this year.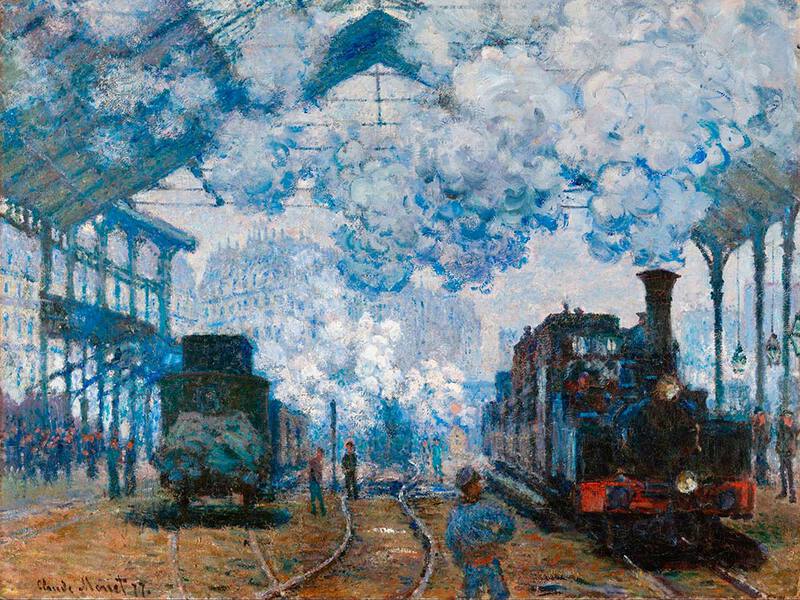 March 1878: Camille gives birth to Monet's second son, Michel.
5 September 1879: Camille dies, perhaps as a result of complications from a botched abortion. Monet produces one of his most remarkable works, Camille Monet on her Deathbed.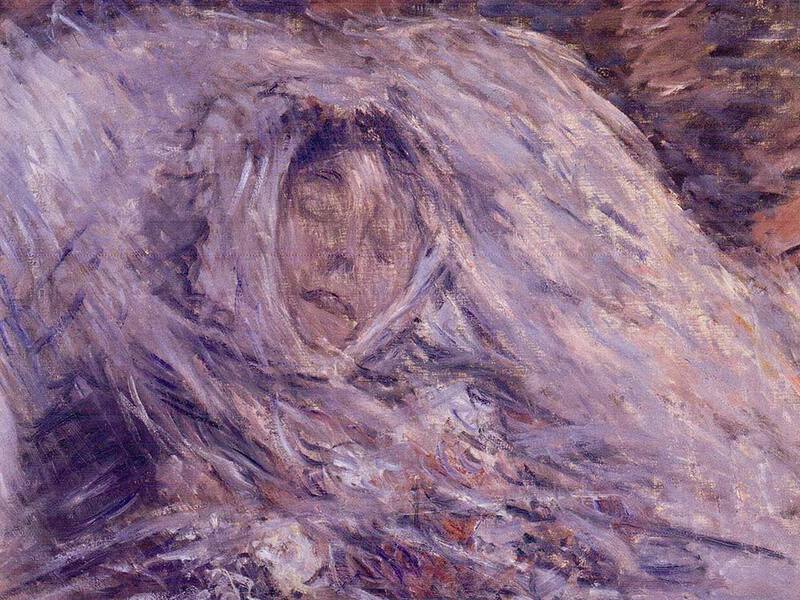 Giverny and gradual success
1883: Monet moves to Giverny, a large village 50 miles north-west of Paris. He initially rents a large farmhouse, buying it in 1890 and extending the gardens on a number of occasions.
1883/4: Monet travels with Renoir along the Mediterranean coast, and later meets up with Cezanne in Aix-en-Provence. He also paints scenes in Bordighera and Etreat. In a letter to Rodin, he described how he was
"fencing, wrestling with the sun"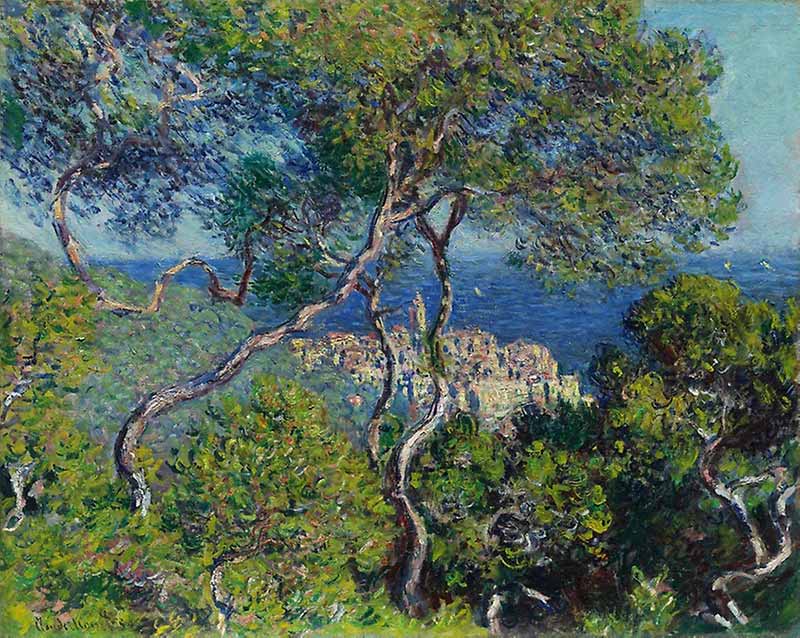 1888: Durand-Ruel exhibits Monet's paintings in New York.
1889-1925: Monet paints the series for which he is best known, the Water Lilies (or Nympheas in French). In total, he produces over 300 versions of this theme, at different times of day, and at different levels of focus and abstraction.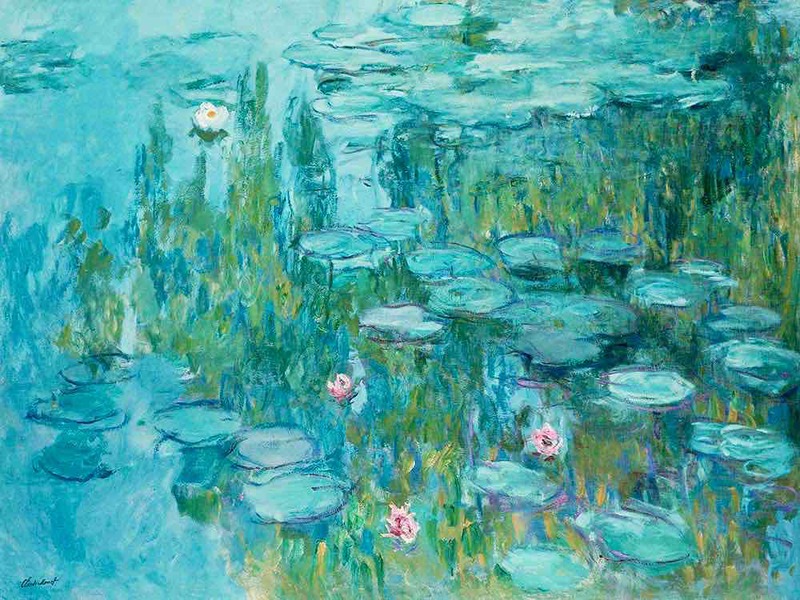 1889-1892: Monet paints 25 versions of The Haystacks (or Grainstacks). Fifteen versions of this painting sell in an exhibition organised by Durand-Ruel in May 1891.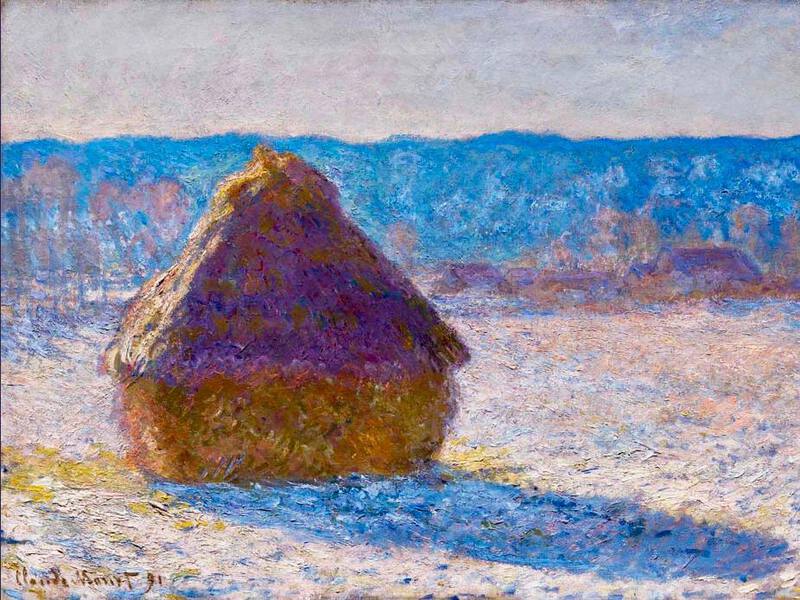 July 1892: Monet marries his second wife, Alice Hoschede. They live at the Giverny property with Monet's two sons and Hoschede's six children from a previous marriage.
1892-3: Monet paints 30 versions of Rouen Cathedral.
1899: Durand-Ruel mounts the first exhibition of Monet's water lilies.
1899-1900: Monet travels to London and stays at the Savoy Hotel to paint the Houses of Parliament and Charing Cross Bridge.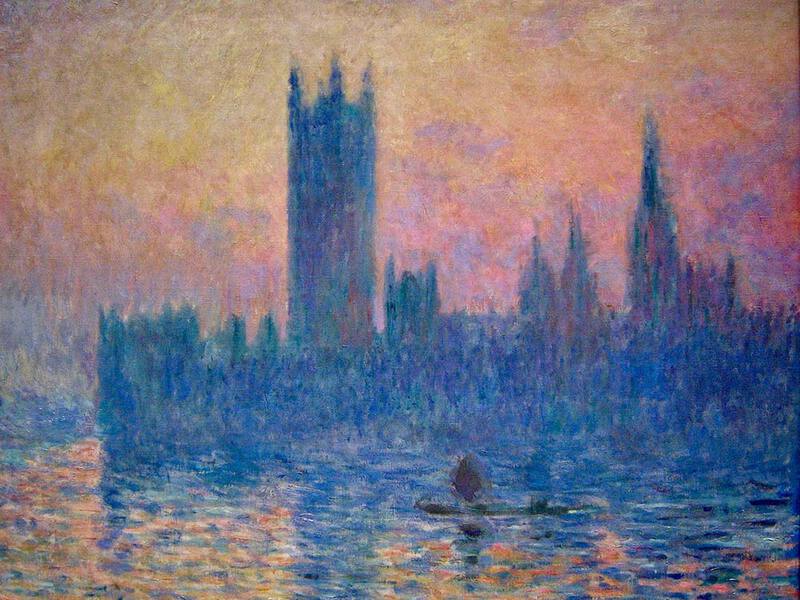 Final years
1907: Monet's eyesight starts to deteriorate.
1909: An exhibition of 48 of Monet's Water Lilies is held in Paris. One critic observes that:
"... for as long as artists have painted, nobody has painted better than this."
1911: Alice Hoschede, Monet's second wife, dies.
1914: Fourteen of Monet's works are hung in the Louvre, a rare honour for a living artist.
1914: Monet's eldest son, Jean, dies. Monet enters into a deep depression and refuses to paint. Monet also refuses to leave Giverny at the start of World War One, even though he can hear shelling from his garden. French PM Georges Clemenceau encourages Monet to paint a series of decorative panels.
12 November 1918: The day after the conclusion of World War One, Monet writes to Clemenceau floating the idea of donating two water lily panels to the French state. He signs formal donation papers on 12 April 1922 - committing to deliver eight canvasses to be installed at the Orangerie in the Tuileries Gardens in Paris by April 1924.
1922: Monet sells a single Water Lily painting to a Japanese collector for 800,000 francs! He was one of those rare artists whose talent was recognised during his own lifetime. Various of the impressionists, and Manet in particular, did not become recognised until long after their deaths.
1923: After a decade of suffering, Monet finally agrees to have surgery to remove his cataracts. By this stage Monet was medically blind in one eye and had 10% vision in the other. During his 'cataract years', Monet's work becomes more abstract and uses more and more red paint. For example: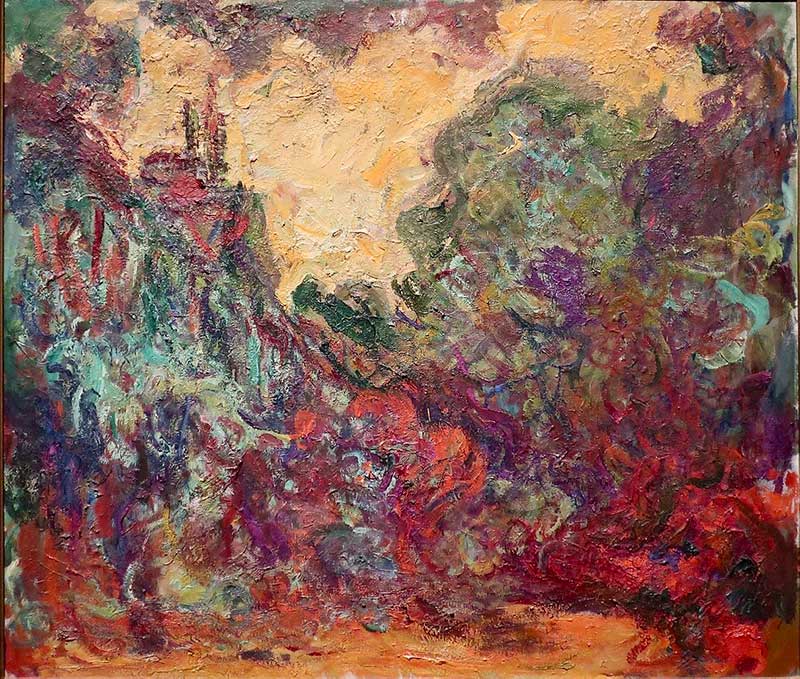 5 December 1926: Monet dies aged 86. Shortly after his death, eight huge canvasses of water lilies that Manet agreed to donate to the French state are installed in a purpose-built museum in Paris, the Musee de l'Orangerie. Known as the Grand Decorations, these canvasses are Monet's crowning achievement - with the Orangerie often referred to as the
"Sistine Chapel of impressionism."
June 2008: A version of Monet's Water Lilies sells at auction in London for £40.9 million. Monet's work now dominates impressionist auctions: of the twenty most expensive impressionist works, 12 are by Monet.