1. Impressionism at the d'Orsay: Manet & Monet
The d'Orsay holds a remarkable 407 works by the nine key impressionist painters.
There are 34 Manets, 86 Monets, 81 Renoirs, 43 Degas', 56 Cezannes, 46 Pissarros, 9 Morisots, 46 Sisleys and 6 Bazilles.
In addition, there are a huge number of works by pre- and post-impressionists, including 24 van Goghs and 24 Gauguins.
Manet
The d'Orsay probably holds the world's finest collection of Manets. Chief amongst them are Dejeuner sur l'Herbe and Olympia. Painted in the early 1860s, Manet submitted these works to the annual Salon (Exhibition) of the Academy des Beaux Arts, throwing down the gauntlet to their jury who preferred more traditional works.

Other important Manets include Berthe Morisot with a Bouquet of Violets, At the Beach, the Balcony, the Piper (a portrait of his son, Leon), and Bazille's Studio.
Monet
Of the 86 Monets, I would single out three as being particularly interesting.
Rue Montorgueil in Paris, a riotous work depicting a June 1878 festival to celebrate the holding of the Third Universal Exhibition in Paris and France's recovery from its defeat in the 1870/1 Franco-Prussian war.
The Magpie: a simple and enchanting painting of a magpie in the snow from 1869.
Camille Doncieux on her Deathbed: this remarkable work, painted hours after Monet's first wife Camille died in 1879, captures her body in the early morning son.

There are also two key works from Monet's early career, Luncheon on the Grass and Women in the Garden.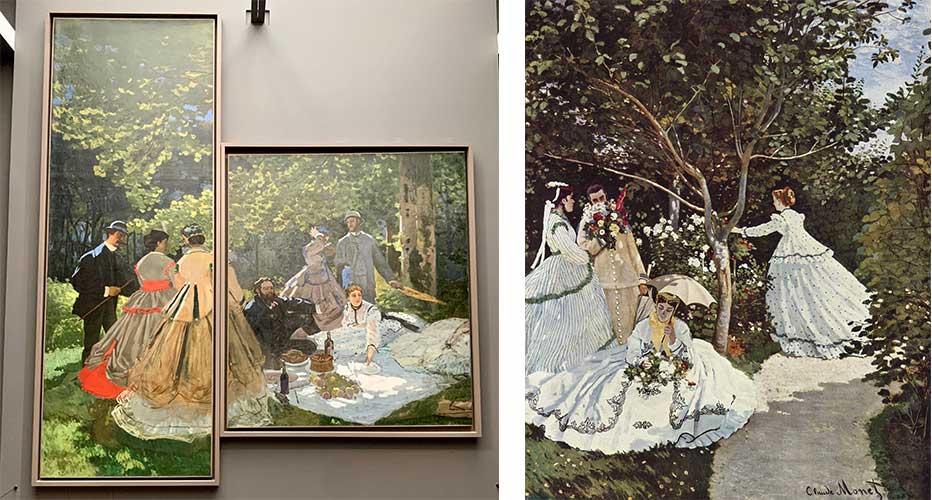 Luncheon on the Grass (1865-6)is interesting because of its size: Monet's canvas was about six by four metres in size, and required the digging of a trench and complicated pully system in order that he could paint the top of it! A homage to Manet's Dejeuner sur l'Herbe, Monet's effort languished in his landlord's basement for years and grew mouldy - only two portions remain!
Women in the Garden (1866) is another early attempt at en plein air (outdoor) painting. But the composition doesn't really work: whilst some of the figures are lifelike, the woman in the background for me looks a bit like a ghost and another of the women has a distinctly masculine appearance.
There are then lots of classic paintings from Monet's series of works: Houses of Parliament, Poplars, Rouen Cathedral, Haystacks and Water Lilies are all represented.
2. Impressionism at the d'Orsay: Renoir & Degas
Renoir
Pierre-Auguste Renoir had a particular knack for painting women and scenes of pure joy.
The d'Orsay's most important Renoir, which ticks both boxes, is Bal du moulin de la Galette (Dance at the Galette Windmill). Note the use of light and shadow and the riotous modern scene, both key traits of impressionist painting.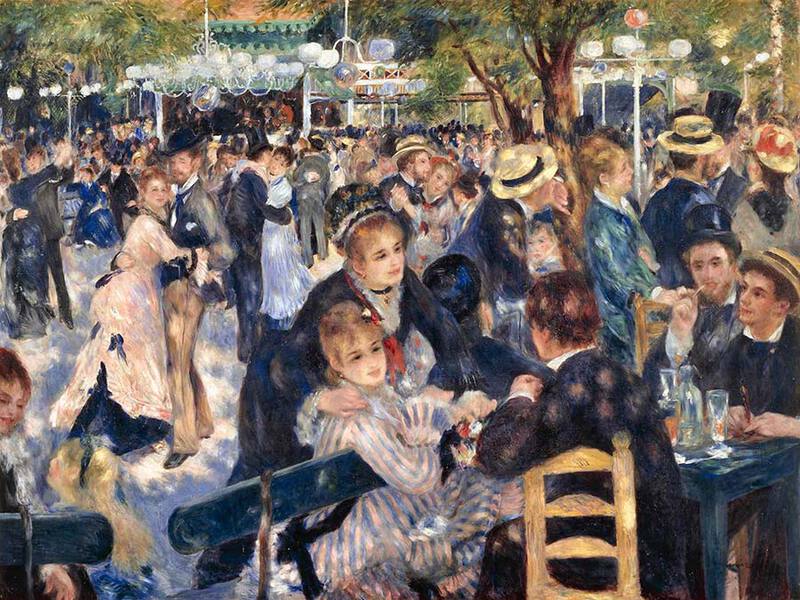 The next most famous Renoir on display is La Balancoire (the Swing), from 1876, which features a grown woman on a swing. It is unclear what is going on: perhaps she is being courted, for she is certainly looking a little coy.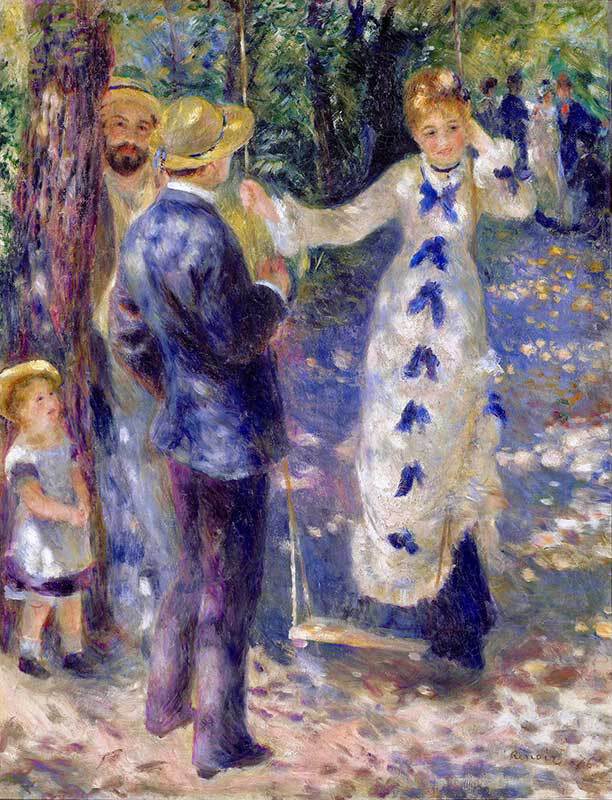 We also highlight Renoir's Dance in the City and Dance in the Country, presented side-by-side. The third painting of the trilogy, Dance at Bougival, is found in Boston's Fine Arts Museum.
Other gems from Renoir's oeuvre include Girls at the Piano, Bathers and Frederic Bazille at his Easel.
Degas
Edgar Degas, best known for his works of ballerinas and jockeys, was a difficult individual. But there is no denying that he produced works of breathtaking beauty and novelty.
The d'Orsay has a an impressive collection of Degas' scenes from the Paris ballet, for example the Ballet's Orchestra (with the dancers featuring in the background), Dance Class (depicting the hard life faced by ballerinas) and Ballet (L'Etoile) (showing a performing dancer and a sinister male figure waiting in the wings). These three works are shown below.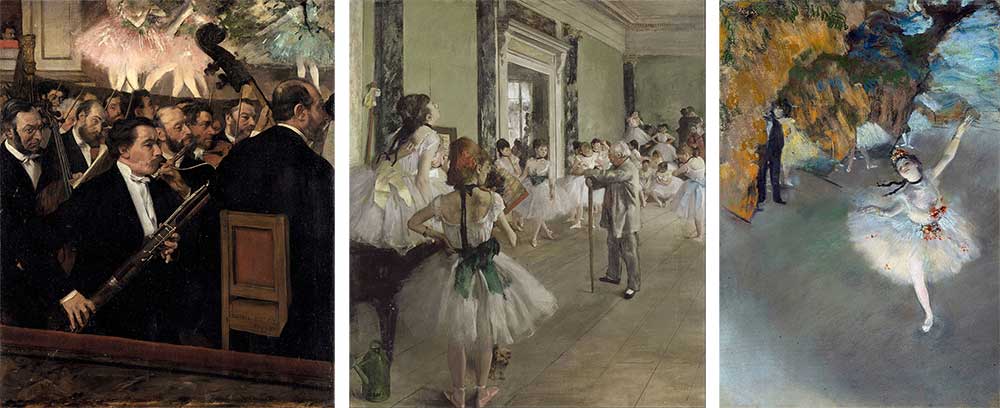 Sticking with the ballet theme, the d'Orsay also boasts Degas' Little Dancer, a life-sized sculpture of a 14-year old ballerina.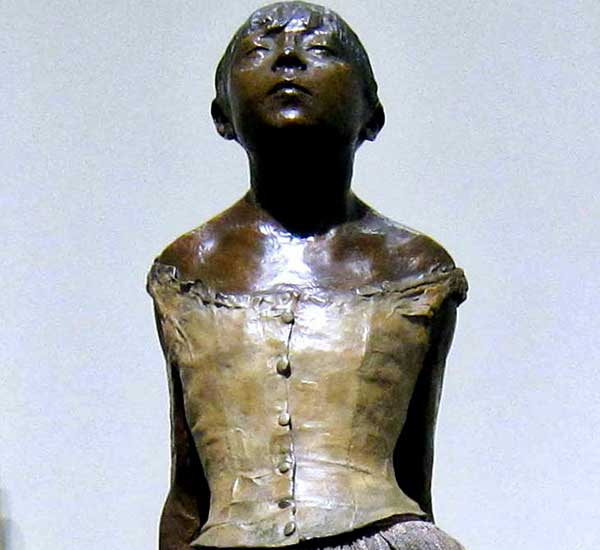 We also mention Degas' In the Cafe (or Absinthe Drinker), another example of Degas painting real-world - and not idealised - scenes.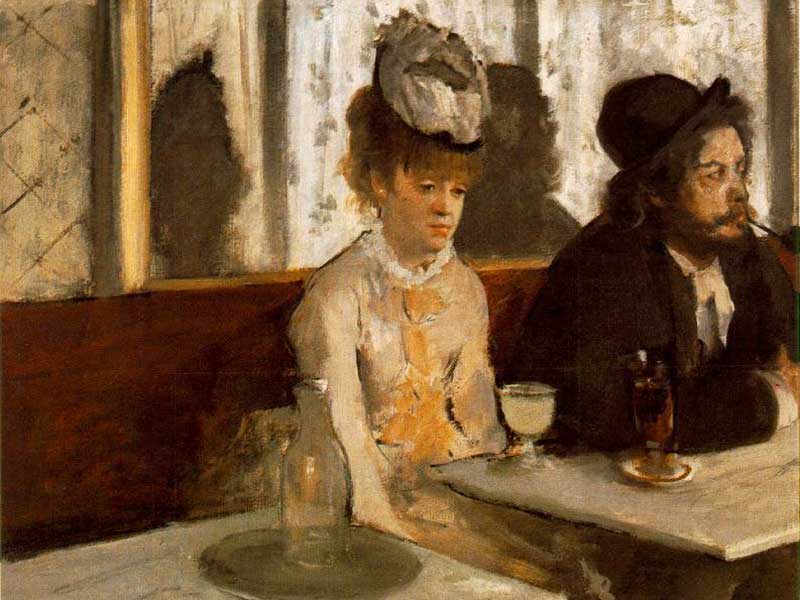 3. Impressionism at the d'Orsay: Cezanne & Pissarro
Cezanne
Paul Cezanne was perhaps the most unpopular of the impressionists throughout the 1860s and 1870s. His unusual works were castigated by the critics and his low self-esteem meant that he often returned to his family home in Aix seeking solace. Today, however, he is one of the most important impressionists, with his later works providing a key bridge between impressionism and 20th century art.
The d'Orsay's most famous Cezanne is one of the five versions of the Card Players.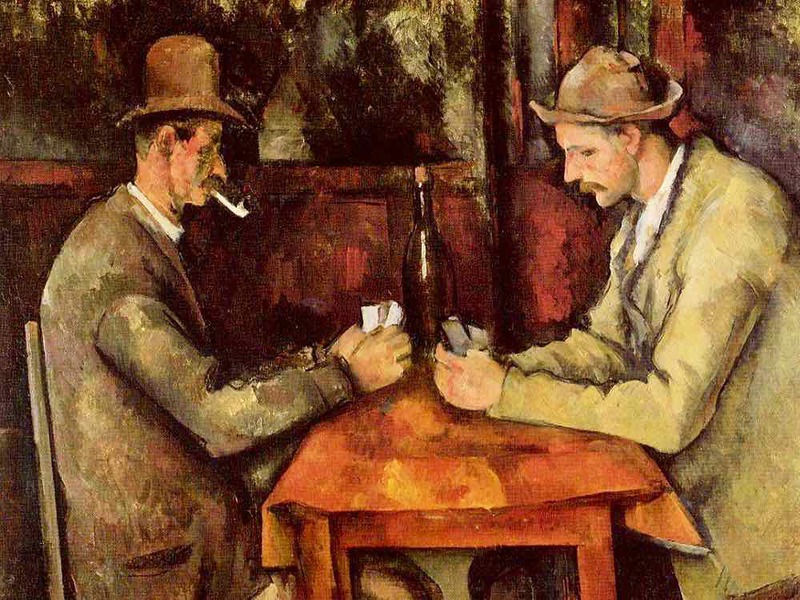 The d'Orsay also holds numerous versions of Cezanne's nude bathers, a subject that fascinated him during the last 25 years of his life. Cezanne painted either men or women, usually obscuring their facial features. Here's an example, painted in 1890: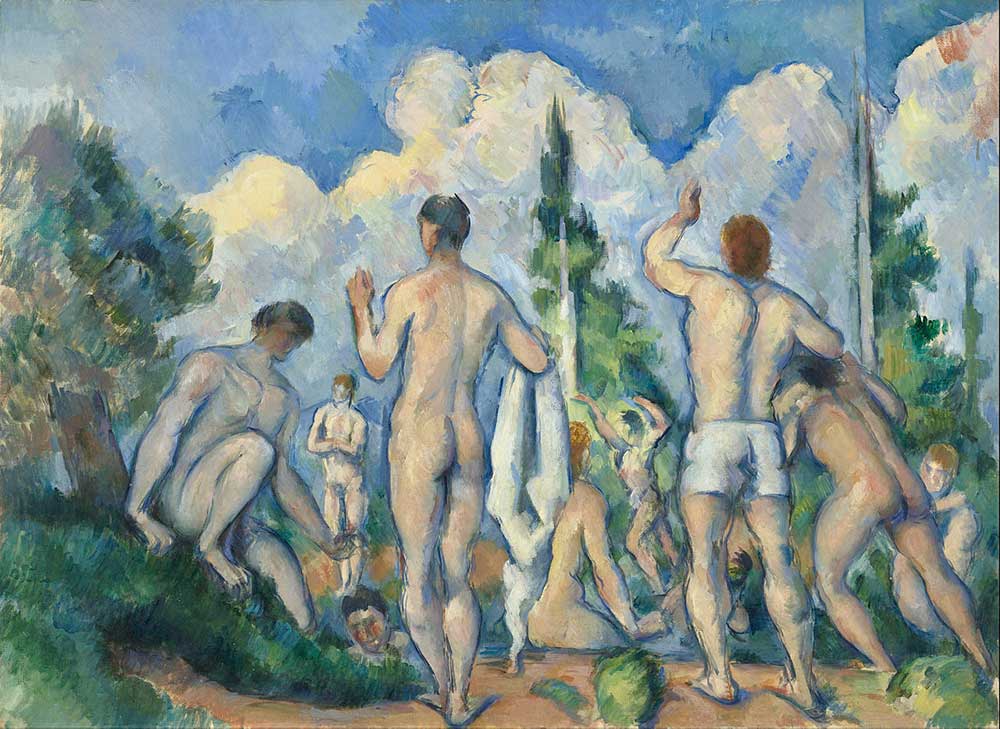 The d'Orsay also holds a number of Cezanne's still lives and portraits, including a rare self-portrait from 1875 as seen below.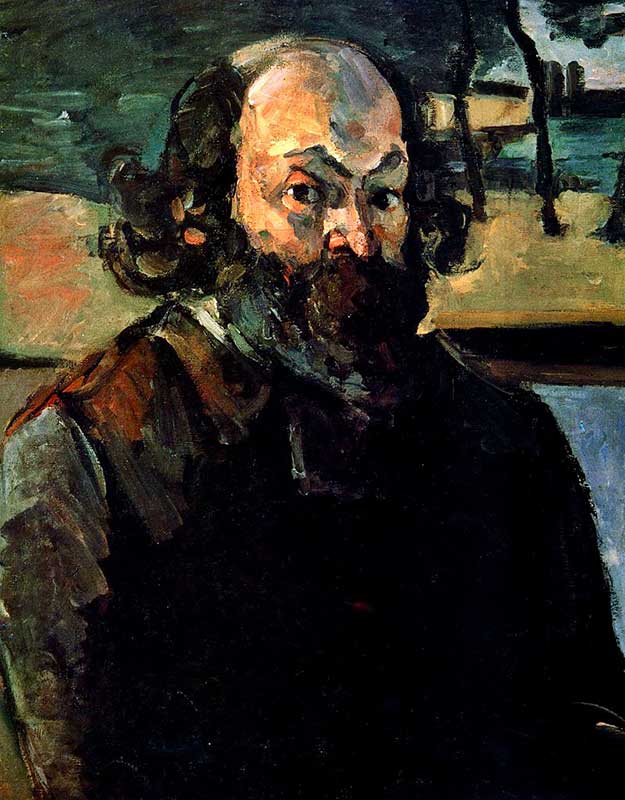 Pissarro
Camille Pissarro, the elder-statesmen of the impressionist movement, is well known for his scenes of the countryside in and around Paris. The d'Orsay has a number of great examples.
Our first selection is Pissarro's Morning Sun in the Autumn (Soleil de Matin, Automne). A bright painting of a woman tending per garden, this is a work that brings a smile to your face!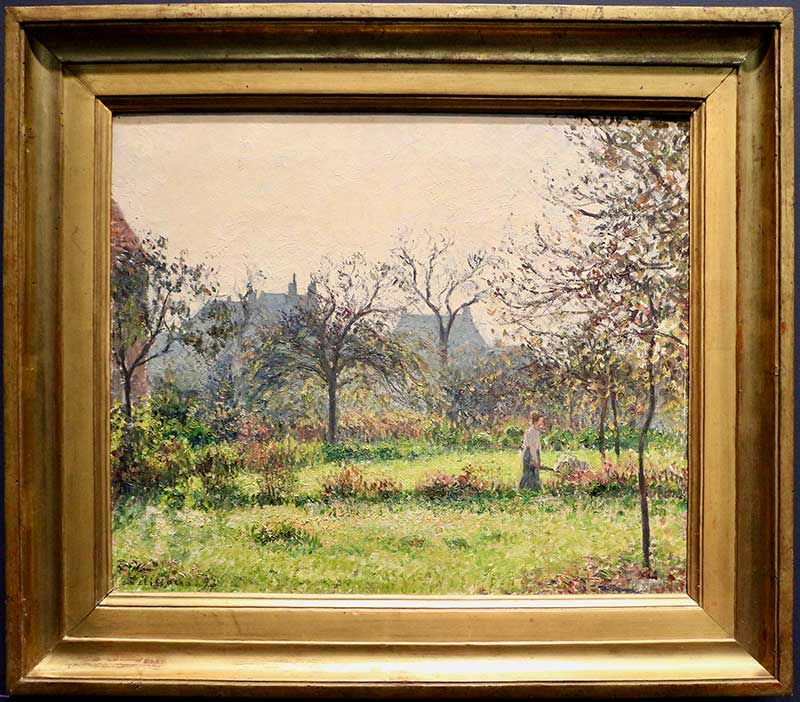 Other lovely Pissarro's include Plum Blossoms in Spring (Printemps, Pruniers en fleurs), from 1877, a self-portrait from 1873, and The Shepardess (La Bergere), from 1881.